Legend of the Corgi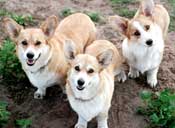 According to the Legend, two young children were out tending the family's cattle and found a pair of puppies that they thought were foxes. When they took the puppies home, the parents told them they were gifts from the fairies.
The Fairies used the dogs as "steeds" and to pull their carriages. As the puppies grew, they learned to help their human companions watch over the cattle. This task became the duty of their Corgi descendants for many centuries to come.
Should anyone doubt the truth of the legend, the present-day Welsh Corgi still bears the marks over his shoulders of the little saddle used by his fairy riders.

Misty Ridge Girls
Bubbles, Larklain Flares Joyful Song, was born December 1998 red & white. She is the dam of Cookie and has retired from the Misty Ridge breeding program. Her job is to enjoy being a Grandma to new puppies. VWD: Normal, Eyes: Normal

Cookie, Bubbles One Tough Cookie CD, was born April 2000 red & white. She is the dam of Widget. She had 4 puppies in 2004 litter with Triple H. Cal Ripken. She is very athletic and will begin agility next. VWD: Normal, Eyes: Normal
View the Pedigree

Widget, Misty Ridge Bit of Attitude, was born November 2002 red & white. She had 10 puppies in 2004 litter with Triple H. Cal Ripken. She has a wonderful disposition with kids. VWD: Normal, Eyes: Normal
View the Pedigree

Bugsy, Misty Ridge Cals Fyrebug, was born August 2004 tri with brown points. She is one of Cookie's 2004 litter out of Ch. Triple H. Cal Ripken. She placed fourth in "herding Puppy Group" at Plum Creek/CKC show in 2005. Eyes: Normal
View the Pedigree

Misty Ridge Males (Check us out Here)
| | | |
| --- | --- | --- |
| Rocky L Misty Ridge Voyager's Music til Dawn (aka Deano). It has taken him some time but he is finally maturing out to a gorgeous male with a fantastic temper. He is from Rocky L farms in California and out of Ch Fergwyn's Now Voyager (aka Sam) of Faerie Glen kennels. He dam is Larklain Markers Jalapeno Hottie so we are once again going back to Larklain and keeping our basic lines intact, just adding some new blood. | | Dude, Misty Ridge Timers Fyrecracker, was born July 2005; he is a tri with brown points. Dude is the first male that we have kept; he is out of Cookie and Ch. Larklain Cals Timeless Appeal. Misty Ridge has our first Champion. Champion Misty Ridge Timers Fyrecracker finished with a 4 point major at the Coyote Cluster in Tucson Arizona. We did chase that elusive last point through out the end of the 2006 show season, but Carol Swinney took him to his last win with honors! In all, "Dude" finished with a 3 point major, two 4 point majors and one Best of Breed! Look for his ad in the Corgi Annual coming out in late summer 2007. He is now basking on his laurels and telling the "girls" what a cute stud he is! We hope to breed him to BJ's Bound for Glory this fall of RedFoxx corgis in Grand Junction. So for the summer, he gets to be a real dog chasing rabbits and herding goats. |

Misty Ridge Fathers
Ch. Triple H. Cal Ripken was born 12/12/01 and is owned by Linda Munoz, Faerie Glen Kennels. Cal only visits us at Misty Ridge from time to time but comes from super Champion Sammy Sosa. Hips: Normal, VWD: Normal, Eyes: Normal
View the Pedigree

Ch. Merit's Heartfelt Thanks (aka Liam). We are proud to announce our newest litter out Liam from Merit Kennels in Spokane, WA and Randee Blume. Liam went Best of Opposite Sex at Westminster this February and is now in Italy for a year. The Dam is Misty Ridge Cal's Wildfire (aka Spot). We had 6 puppies, 2 girls and 4 boys.

Ch. Honeyfox Penny Arcade is owned by Nita Bitner of Fort Collins, CO.

Ch. Larklain Cals Jazzman "Satchmo"