Here at Misty Ridge we appreciate how difficult it can be to break into a new venue.
We also understand the desire to improve and build on a solid foundation, to want to compete and to be competitive. To this end, we have helped others begin their own history making steps owning and raising Corgis.
Over the years, we have seen several of our dogs go into show homes and end up doing extremely well on the show circuit. In this section, we want to show off some of our "kids" who are starting out with our dogs and beginning their own breeding program.
Rock On!
RedFox Corgis: Noelle Blair has been showing corgis for quite some time but we have been working together now for over 11 years. First Noelle bred her bitch Glory to our stud Dude, the result was a winning girl, Flirt!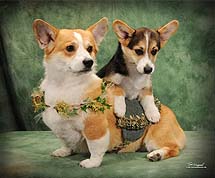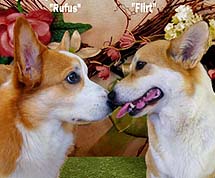 Noelle bought a male from our Rowdy X Bugsy litter. After pulling several Reserves with "Boo", Noelle got his first 3 points at Buckhorn Valley Kennel club.
Ch. Misty Ridge Ruff N Rowdy at RedFox, aka "Boo"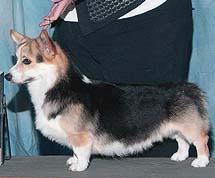 For information on Flirt, Crusher and the other Red Fox kids, contact Noelle@Rottndog@aol.com.
---
Cefin Corgis: Goeff & Liz Heskett came to us for a "show male" and hence the legend of "Rufus" was born (Ch. Misty Ridge Sammy's Honey Graham). Goeff went from having never shown a dog to becoming an accomplished handler. And Liz' long time showing of horses translated well into handling dogs.
The Heskett's have picked a kennel name, Cefin Corgis, and have an excellent web site www.Cefincorgis.com. Please look them up and check out their new puppy and upcoming litter.
---
Rocky L Ranch Corgis: 2009, our litter from Rowdy (Ch. Triple H MidKnight Rumble) and Bugsy (GCH. Misty Ridge Cals Fyrebug) was exceptional. We sent the #1 male of that litter to Lisa Halop of Rocky L Ranch. (RockyLRanch.com) Lisa has been breeding corgis for quite a while and has a well-established and excellent program. She got her first major with him from the 6 to 9 month puppy class in Tucson last fall at the Coyote Cluster. Since then, Parker has completed his championship and then went on to Agility and has several titles there. She currently is campaigning him in Agility on the West Coast. In 2014 a Parker son won a 5pt Major with a BOW at the Columbia River PWC Specialty!
CH. Misty Ridge Rumblestiltskin, AXP AJP OFP, aka "Parker"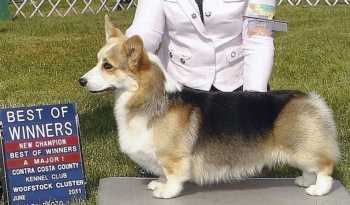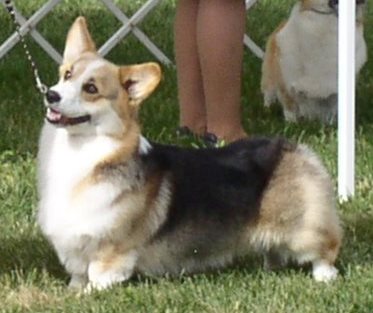 ---
Haals Kennels: Alberto Ballesteros is a professional handler who has a training facility outside of Mexico City but he wanted to change the face of Pembroke Welsh corgis in Mexico. He believed that if he got a corgi from the US, their conformation and temperament would be better than the ones coming in from South America. In 2010 Alberto contacted us through a good friend that is now living in Mexico. That was the year that we had bred our girl "Spot" to Randee Blume's excellent male, Ch. Merit's Heartfelt Thanks (aka Liam). From that litter, which Randy laughingly called a "rock band" we got Sir Paul McCartney. Thru some "creative shipping", Sir Paul made his way to Mexico and became Alberto's Champion corgi that he had dreamed of. He campaigned Sir Paul extensively and won multiple championships with him thru the various kennel clubs that operate in Mexico. Alberto is an exceptional handler and loves Corgis the best and it shows. Sir Paul acquired some titles in 5 years in Mexico and has come back to Colorado for some fun at AKC shows here. But more importantly, Sir Paul is the foundation for Alberto's Pembroke corgis that he is now breeding and showing in Mexico. And thru all of this, we have gained an exceptional friend in Mexico!
Ch. JOVEN MEXICANO
Ch. MEXICANO
Ch. INTERNACIONAL
Ch. PANAMERICANO
MAJOR WELSH CORGI PEMBROKE DE MEXICO EN EL AÑO 2011
BIS.P.B. Mult Ch. Misty Ridge Liam's Sir Paul McCartney, aka "Paul"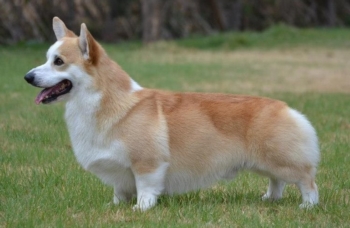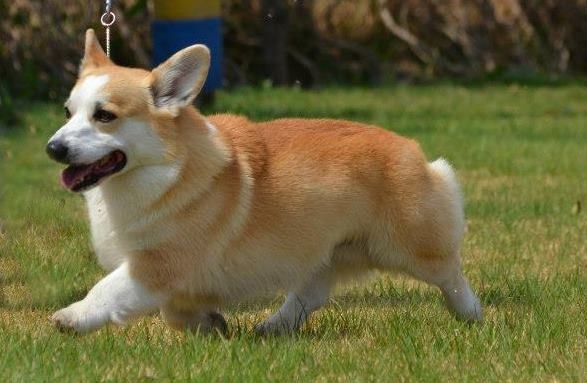 ---
Zion Corgis: Lindsay Waldrep, got Woody from us in 2014. Woody was one of the last litters out of the superb Triple H male, Ch. Midknight Rumble (aka Rowdy). Woody traces back to Misty Ridge Cals WildFyre (aka Spot). To date, Woody has one major and 8 total points. Lindsey expects great things from him in 2016 and we wish her well with all her Corgis.
Misty Ridge's Reach for the Sky at Zion, aka "Woody"